Classical Guitar Corner Academy
Your Online School for Classical Guitar
The CGC Academy serves adult amateur guitarists by providing them with the highest quality education available.
It is an opportunity for you to access a world-class education from your home and join a vibrant community of guitarists who are studying the classical guitar alongside you.



A world-renowned curriculum "The Cornerstone Method"
Used by teachers, schools, and students around the world, this modern progressive method builds upon the great methods of the past and incorporates all of the advantages of 21st century multimedia technology.
A vibrant community of over 1000 students to share ideas and draw inspiration
Students in the CGC Academy are dedicated and engaged in learning. You can watch and learn in private or immerse yourself fully in the active community forum.
Regular live member sessions give you the opportunity to play and watch
Live Zoom session give you the opportunity to play, receive feedback, or watch and enjoy. A wonderful way to learn and feel the camaraderie of the community.
Personal Feedback
You have a variety of ways to receive personal feedback at the academy: Coaching calls, exams, member challenges, member Q&A, forum questions, and dedicated email support.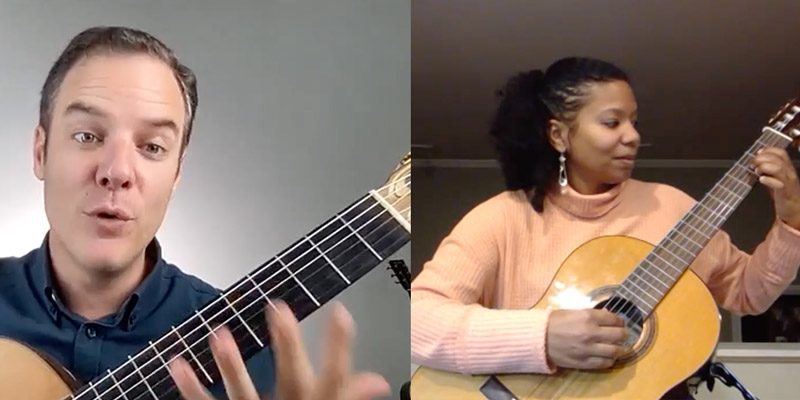 Regular Events and Activities
There is always something going on at the Academy. Member challenges, duets, live concerts, member meetups, workshops, guest classes, and even an international Summer School!
Meet Your Teacher, Dr. Simon Powis
I am a guitarist just like you and I am excited to share my knowledge and experience. I was awarded a doctorate from Yale University, performed in Carnegie Hall, the Kennedy Center, taught in international universities and masterclasses and I maintain an active performance career. I say this only to convey that I have passion for both performance and education and through this site I have been privileged to help hundreds of guitarists like you to improve their playing.
"Simon Powis is the rare combination of a virtuoso guitarist and a thoughtful, forward thinking pedagogue."
"Although he has performed, taught and given master classes all over the world, the talented and personable guitarist is perhaps most widely known these days for his highly regarded online classical guitar pedagogy: Classical Guitar Corner."
"Originally from Australia, New York–based guitarist Simon Powis has built his online school into one of the most widely respected sites of its kind."
A World-Class Curriculum
The Cornerstone Method for Classical Guitar
A structured learning path to help you focus, save time, and enjoy the journey.
There are so many tips and tricks videos out there, thousands of pieces to choose from, and a variety of teachers that range from experienced to novice. This can leave you feeling lost, overwhelmed, and ultimately, frustrated.
The CGC Academy provides you with a guided learning experience that helps you improve step-by-step. You will feel a sense of clarity knowing what to work on next, have the opportunity for feedback, and save time by focusing on what needs to happen right now.
Lessons are taught with a variety of resources to help you learn key concepts:
High quality video recordings
PDF sheet music downloads
Focused exercises to work on and develop your skills
Audio backing tracks to play along with
Q&A under each lesson
You can keep track of your progress, mark off lessons as "complete", and easily navigate back to your current lesson when you log in to the Academy.
There are 20 progressive units which organize the following elements:
Notation & Sight Reading
Solo & Duet Repertoire
Technique & Musicianship
Scales & Arpeggios
Practice Tools & Routines
Theory & Analysis
Each unit represents a set of achievable goals that keep you focused and provide you with the right material to work on.
8 Grades – Beginner to Advanced
Starting with a preparatory course (the Fundamentals) the 8 Grades take you from complete beginner material through to intermediate and advanced lessons. Each Grade has a clear set of goals to achieve and if you would like, you can submit a grade exam and get detailed feedback.
You will find a vast library of solo works to study inside the CGC Academy. These solo works come with downloadable PDF editions, video lessons, score analysis, performance examples, and some are provided with full study guides!
Solo works span from beginner pieces to advanced grade 8 repertoire and include:
Selected studies from Fernando Sor Opus 60, 35, and 6
Lágrima by Francisco Tárrega
Bourée by J.S. Bach
Capricho Árabe by Francisco Tárrega
Julia Florida by Agustín Barrios
Allegro by Mauro Giuliani
Españoleta by Gaspar Sanz
El Testament D'Amelia by Miguel Llobet
The Practice Routines at CGC Academy provide you with exercises focused on a comprehensive and balanced approach to technique and musicianship.
Exercises focus on the following kinds of elements:
Left Hand
Arpeggios
Scales
Right-hand balance and voices
Slurs
Shifting
Fingerboard knowledge
Finger independence
Speed development
The Graded Duets for Classical Guitar course features a variety of musical styles that are organized in a progressive series that develops your playing. Each piece is offered with sheet music, performance tracks and play along tracks, video lessons, and video performances. 
The extensive library of duets includes:
Mazurka by Francisco Tárrega
Moderato by Carulli
Invention in A minor by J.S. Bach
Canarios by Gaspar Sanz
Der Spiegel by W.A. Mozart
Canone a due liuti by F. da Milano
Canon by G.P. Telemann
Music theory can help you understand how a piece of music is put together, how you can interpret different aspects, and it will impact general comprehension and memorization. Inside the Academy you will find step by step lessons that start from the absolute basics of reading music to harmonic analysis of repertoire.
Theory lessons inside the Academy cover a variety of topics that include:
Learning to read music
Score markings and expression terms
Scales
Triads
Extended harmonies
Phrasing
Harmonic analysis
The CAGED system
Scales and Arpeggios can be incredibly useful in your development as a guitarist and a musician. Not only can they be used as tools to develop technique but they can also be used to explore fingering approaches, work on expressive aspects, and outline harmony on the fingerboard.
Inside the academy you will find a collection of over 40 lessons on scales and arpeggios that feature:
An introduction to scale practice approaches
Speed development
Fingering approaches
Right and left hand approaches to arpeggios
Articulation and expression practice
Rhythmic challenges
1. Personal Coaching Calls
There are several ways for all members to get feedback on their playing in the Academy. These include performance seminars, grade exams, forum posts, and member challenges. However, if you want to get ongoing, immediate, and regular personal feedback on your playing you should consider joining our coaching calls.
Each week you will have the opportunity to sign up for one-to-one sessions with a selection of world class performers at a variety of time slots. You can use this time to ask a specific question, play and get feedback, set practice goals, or get general guidance with your studies. Sessions are fifteen minutes each, you can schedule them up to two weeks in advance and they are open in a wide range of time slots over each weekend.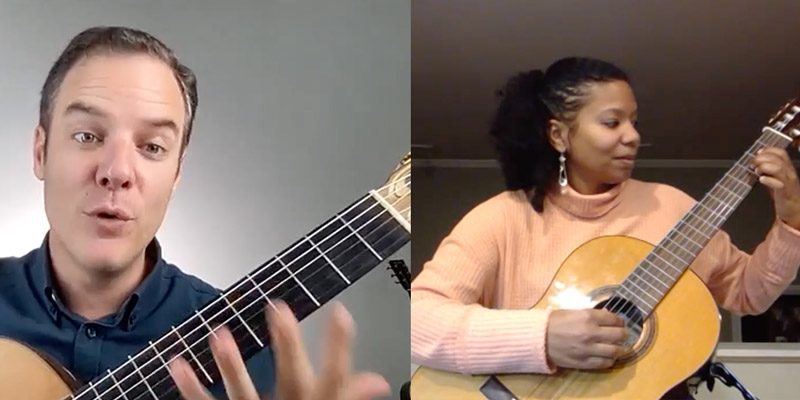 2. Performance Seminars and Open Mic
All members are welcome to participate and or watch our live performance seminars. Students are welcome to perform a piece, exercise, or whatever they might be working on and get detailed feedback to help them improve. Replays are available in the forum and performance seminars are run every other weekend.
These live sessions are easy to set up (just like Skype only better!) and provide a wonderful sense of community amongst members.
3. Grade Exams
Twice a year you have the opportunity to submit a grade exam. This includes a performance of set repertoire pieces, a practice routine, and also a self assessment of your playing and progress. Not only do you get to enjoy the focus and motivation from this process but you will receive detailed personal feedback on your playing.
4. Progress Journals
By starting a progress journal at the Academy you will be able to watch your transformation over time. It helps you focus on what you need to work on and also provides a great source of positive motivation when you feel stuck. More often than not we are making progress but it is hard to feel that progress. Keeping a progress journal helps keep your perspective on your achievements. As an added bonus you will find that other members are happy to cheer you on with support and feedback if you ask for it.
5. Member Challenges
Making progress on the classical guitar can often feel like a turtle race: it's a long road that takes discipline and daily work. However, it's also important to set smaller, more achievable goals to keep you motivated and on track to reach your more long-term goals. To that end, CGC Academy hosts member challenges each season. These challenges only last for three to four weeks, giving you the opportunity to set and stick to small, achievable goals. Each challenge has a different focus: for instance, scales or left-hand arpeggios.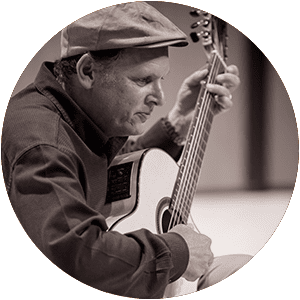 Finding this site has been one of the great joys in my life.
I've seen a lot of change in guitar pedagogy in my life and I think that the clarity of your teaching as well as your expert use of technology provides enormous value to guitar students at all levels.
I am now 56 years young and it took a lot of trial and error trying to learn on my own and jumping from one you tube channel to the next without any clear path for progression until I came upon Classical Guitar Corner!
CGC is Unlike Anywhere Else
Our Family of World Class Musicians
In both the online academy and in-person events we have a family of professional colleagues that share their knowledge and experience with CGC Members. These can be in the form of recorded and live masterclasses, live member workshops,  and teaching at the CGC Summer School.
Current masterclasses include:
Andrew York
Rene Izquierdo
Gohar Vardanyan
Bradford Werner
Dr. Noa Kagayama (Juilliard)
Benjamin Verdery (Yale)
Fred Hand (Mannes)
Garret Lee (Luthier)
GFA laureate, Kevin Gallagher
The community at CGC Academy is one of the friendliest and welcoming on the internet. We love to support one another through the journey of learning music. Members hail from all around the world and many friendships have started here at the Academy.
There have been several groups that decided to conduct local meetups and open mics in their local area bringing guitar enthusiasts together.
Each year the students of CGC have the opportunity to attend an international gathering of guitarists near Boston USA. This weeklong event brings in master teachers and provides a fun relaxed environment for students to hone their performance skills, knowledge, and ensemble skills. The Summer School runs in June each year and is a ton of fun!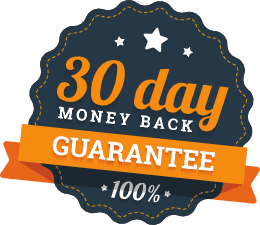 It's really simple…
We put our heart and soul into this school and we are confident you are going to enjoy being a member. If you find that this site is not for you, you can let us know within thirty days of signing up, and we will give you a full refund. This guarantee means there is no risk in signing up and every reason to become a member right now. Choose your membership below.
Choose your membership below, and get instant access.
Quarterly
Full Curriculum Access
All Downloads
Live Performance Seminars
Member Challenges
Annual
$200 Annual Discount
Everything from Quarterly Plus:
Guest Masterclass Series
Grade Exam Submissions
Annual with Coaching
Full Annual Membership plus
One-to-one coaching on a weekly basis.
Teachers include: Simon Powis, David Belcher, Niki Todesco, James Erickson, and Sanja Plohl.