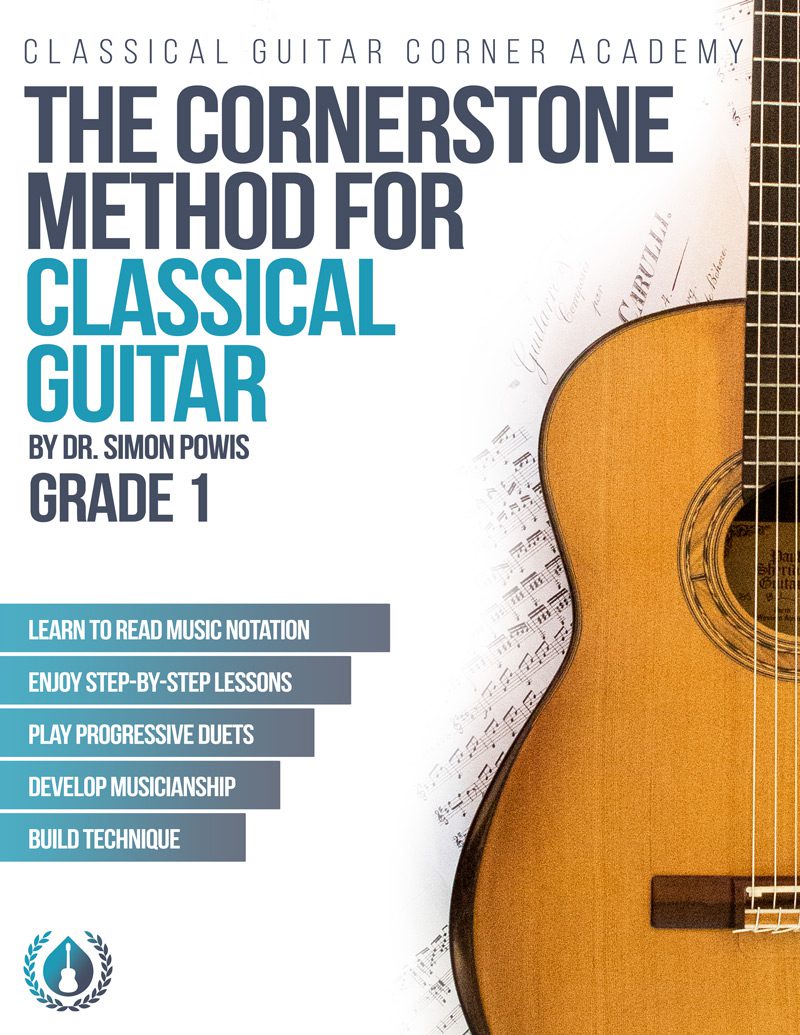 The Cornerstone Method for Classical Guitar – Grade 1
29.95


Details
The Cornerstone Method for Classical Guitar: Grade 1 offers a step-by-step guide for beginners learning classical guitar. In this book we'll walk you through learning new notes, rhythms, notation, duets, theory, and more. The book works in tandem with our other books, Graded Repertoire, 20 Practice Routines, and Graded Duets. We've included notes in the book to help guide you where it would be appropriate to study elements from one of the other books.
What's Inside the Book?
Inside the book you'll find new concepts in each lesson, with exercises and explanations to guide you along the way. As a progressive method, each lesson builds off of the previous one in a smooth, incremental way. At the end of every lesson we've included duets that you can play along with a teacher or another musician. Each lesson also includes homework to reinforce what you've learned with some work away from the guitar. Together each of these elements provide a balanced way to learn classical guitar.
Classical Guitar Corner Academy
The great thing about The Cornerstone Method for Classical Guitar: Grade 1 is that it provides you with a fully comprehensive method that, with the other CGC books, offers a well-rounded learning experience of classical guitar. However, there is even more at Classical Guitar Corner Academy. Our members enjoy access to all of the following.
Video lessons on each unit of lessons from the book;
Audio backing tracks for all of the exercises and duets;
Study guides on all of the repertoire;
Duet lessons with audio backing tracks from our Graded Duets book;
Technique video lessons and exercises;
Video lessons and walkthroughs of the 20 Practice Routines.
On top of that, members have access to an active, supportive, and encouraging community of guitarists from around the world. We hope you'll consider joining CGC Academy.